Hu Kaihong:
Ladies and gentlemen, good morning. Welcome to this press conference. The BRICS summit is going to open shortly in Xiamen. Yesterday, the Foreign Ministry held a press conference, in which Minister Wang Yi made a brief introduction of the forthcoming meeting. As we know, the event has attracted great public attention, so today, we are holding this press conference to introduce the economic and financial cooperation of the BRICS countries. Present here are: Mr. Zhou Qiangwu, director general of the International Economics and Finance Institute of the Ministry of Finance, and Mr. Ye Fujing, director general of the Institute for International Economic Research of the National Development and Reform Commission. They will make an introduction and then answer some of your questions.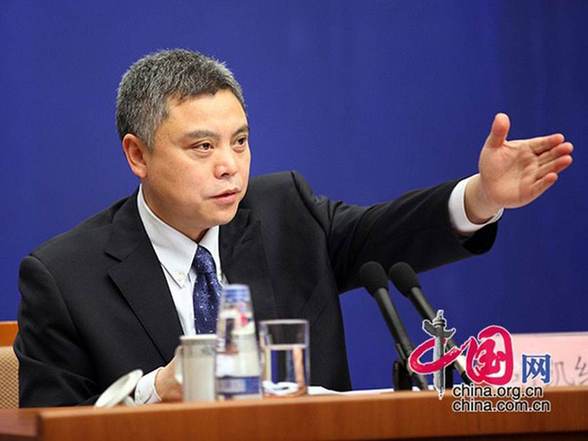 Hu Kaihong, spokesperson of the State Council Information Office. [Photo/China.org.cn] 
Now, let's welcome Mr. Zhou to give his briefing.
Zhou Qiangwu:
Thanks. Good morning!
The BRICS Xiamen summit is just around the corner. Iappreciatethe opportunity offered by the State Council Information Office to meet all of you here today. I'd like to start by sharing with you the achievements made by the BRICS cooperation in the economic sphere, especially in fiscaland financial areas, in the past decade, as well as the outlook for this year's Xiamen summit.
Since the BRICS cooperation mechanism was launched ten years ago, the five member countries have upheld the spirit of openness,inclusiveness, cooperation and win-win results, expanded the fields of cooperation and improved the mechanism of collaboration.
Step by step, the five countries have developed BRICS into a key platform for dialogue among major developing countries as well as global economic governance. The international influence and attraction of BRICS has also increased markedly. Now BRICS holds an overarching leaders' summit annually, coupled with more than 20 ministerial-level dialogues.
In China, over 40 departments are involved in the BRICS cooperation mechanism, in which fiscal and financial cooperation is a major part. BRICS countries have kept strengthening communication and coordination regarding fiscal and financial issues over the years, including the establishment of the New Development Bank more than two years ago. The bank has achieved tangible results in many fields, contributing to the socio-economic development of BRICS countries and the improvement of global governance.
I believe the upcoming Xiamen summit will producerich results in fiscal and financial areas.Now I'd like to introduce to you the expected results and possible highlights.