Italian sculptor Dionisio Cimarelli has lived and worked in China for six years. He is now completing a sculpture of Matteo Ricci for the Italy Pavilion at the Expo.
Dionisio Cimarelli is putting the finishing touches on a 1.5-meter-tall bronze sculpture of Italian missionary Matteo Ricci who introduced Western mathematics and science to China in the 16th century.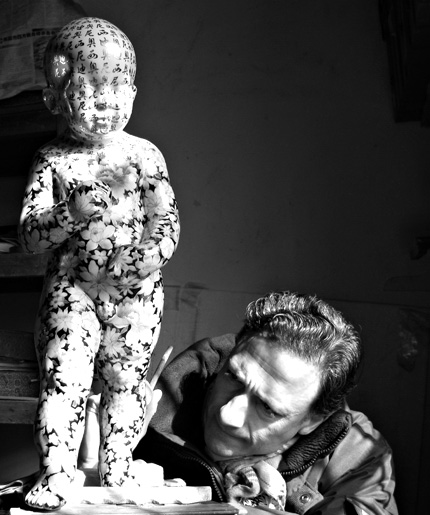 Sculptor Dionisio Cimarelli puts the finishing touches on a ceramic sculpture. (Shanghai Daily photo)
The statue, adorned with gilded calligraphy, will be installed in the Italy Pavilion at the World Expo Shanghai in two or three weeks. Cimarelli is one of Italy's best-known sculptors.
Matteo Ricci (1552-1610), or Li Madou as he is known in China, is one of the best-known foreigners who came to China centuries ago, along with Marco Polo.
"It is a great honor for me," says Cimarelli, another Italian who has lived in Shanghai since 2004.
Although he has been working past midnight for the past several weeks on the work, he considers his effort worthwhile "because of the huge number of visitors who will appreciate my piece of art."
Ricci was the first foreigner as a missionary who entered the Imperial Palace in the reign of Emperor Wanli during the Ming Dynasty (1368-1644). He mastered the Chinese language, calligraphy and studied the culture; he also made Western developments in mathematics available to the Chinese.
Cimarelli works from drawings of the famous missionary but notes that he himself comes from the same part of Italy, around Ancona, where Ricci was born.
"Our facial features should appear similar," he jokes.
He puts gilded Chinese calligraphy of his own Chinese name on the bronze - his signature.
Cimarelli, who works in a studio on Changping Road, has done all the work himself, without assistance.
"I did everything myself to ensure quality," he says. "I'm a Virgo, a perfectionist."
He says he enjoys "the peaceful atmosphere wafting over my surroundings. When I am at work, I enjoy a quiet and peaceful world of my own."
When he first visited China in 1986, he became fascinated by Chinese art and culture.
"The country is like a magnet that draws me closer," he says.
Unlike many new expatriates who live in their community bubble, Cimarelli says he "melts" into the life of the locals.
"I know every corner and road of the city, because my favorite hobby is walking - it builds up my body and make me feel I'm close to the heart of the city," he says.
In his travels, Cimarelli visited Jingdezhen, the cradle of China's china, to study the techniques of making Chinese porcelain.
"It's much more difficult than I expected," says Cimarelli who has 10 years of experience in making ceramic sculptures. "This is totally different."
Cimarelli created a series of Chinese ceramic sculptures, including those of a standing child and a broken African mask, scattered with the gilded calligraphy of Cimarelli's Chinese name.
Now Cimarelli is looking forward to vacation.
"I'm exhausted," he says, adding that the sculpture will be installed in two or three weeks in the Italy Pavilion.
After completing the Ricci sculpture, Cimarelli will work on several commissioned pieces for a large architecture project in the Zhongkai Sheshan Luxury Villas of Shanghai.
"It seems that I must stay here longer than I expected," he says.
(Shanghai Daily July 2, 2010)