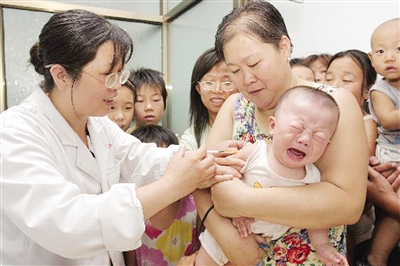 A Chinese medical worker vaccinates a baby. [File photo]]
Police in east China's Shandong Province have detained 37 suspects implicated in a vaccine scandal that has shocked the nation and raised questions over vaccine safety.
Shandong police announced last month that they had arrested a mother and daughter alleged to have illegally sold improperly stored or expired vaccines worth more than 570 million yuan (US$88 million) across 20 provincial-level regions since 2011.
Nine pharmaceutical companies in six provinces are being investigated by China's Food and Drug Administration. It has asked local authorities until Friday to find out who bought the vaccines.
The Supreme People's Procuratorate (SPP) on Tuesday announced it will directly oversee the case, and urged prosecuting bodies at all levels to spare no efforts in their investigation.
Improperly stored or expired vaccines pose a very small risk of causing a toxic reaction, according to a notice released by the World Health Organization (WHO) country office in China on Tuesday.
The notice says vaccines used in China are proved to be safe and effective, and encourages parents to continue to protect their children's health through vaccination.