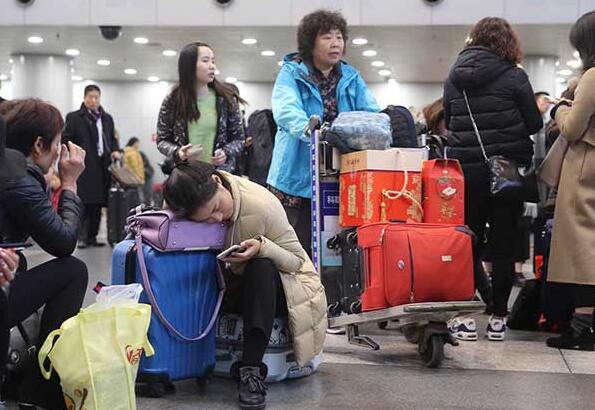 Passengers are stranded at Beijing Capital International Airport due to flight delays caused by heavy smog in December. [Photo/China Daily]
The punctuality rate of China's major airports is still far from satisfactory, according to the latest report published by local aviation statistic company VariFlight.
Although the average punctuality rate of the surveyed airports rose 7 percent year-on-year to 70.4 percent in 2016, the average delay time was 33 minutes. July registered the lowest punctuality rate of 62.3 percent, with delays during that month averaging 42 minutes.
Shanghai Pudong International Airport reported the lowest punctuality rate last year. Only 52.4 percent of the flights took off on time, with delays averaging 48 minutes. Shanghai Hongqiao International Airport had a punctuality rate of 57.2 percent last year, with delays also averaging 48 minutes. Beijing Capital International Airport performed slightly better, with its punctuality rate reaching 60.7 percent.
Xi'an Xianyang International Airport outshone all other airports, with a punctuality rate of 82.3 percent.
According to Feng Zhenglin, head of the Civil Aviation Administration of China, weather accounted for 56.8 percent of flight delays in 2016, up from 29.5 percent a year earlier. Feng said during a previous industry meeting that the goal for 2017 is to maintain an overall punctuality rate of about 75 percent.
Li Xiaojin, a professor at Civil Aviation University of China's Economics and Management College, said that rapidly increasing numbers of flights and limited airspace for civil aviation are the major reasons for delays.
VariFlight's report showed that Beijing Capital International Airport outnumbered all other airports in terms of departures, with 292,000 flights taking off from the airport in 2016, while Shanghai Pudong ranked second with 219,000 departures. But in terms of international flights, Pudong crowned the list, with 94,000 international departures.
International Air Transport Association statistics suggest that China will overtake the United States and become the world's largest aviation market in the next two decades, with annual passenger traffic volume reaching 1.2 billion by 2034.
However, officials said the increasing number of flights and passengers must not be used as an excuse for delayed flights. According to global data service FlightStats, Tokyo Haneda International Airport is one of the busiest airports globally. Its passenger throughput exceeded 75.32 million people in 2015, compared with 60 million in Pudong. However, Haneda registered a punctuality rate of 92 percent, while Pudong reached a mere 53 percent.
The CAAC has adopted a number of new policies to enhance flight punctuality. As Pudong and Hongqiao failed to meet punctuality requirements last year, their applications for extra flights, chartered flights and new routes were suspended.
The CAAC also announced a new policy in late December under which passengers can apply to be informed of the reasons for delays.