Chinese "monster truck" fans no longer have to travel overseas to watch the live motorsport stunt shows, as the world-famous event has been officially launched in the country, which was revealed at a press conference in Beijing on Wednesday.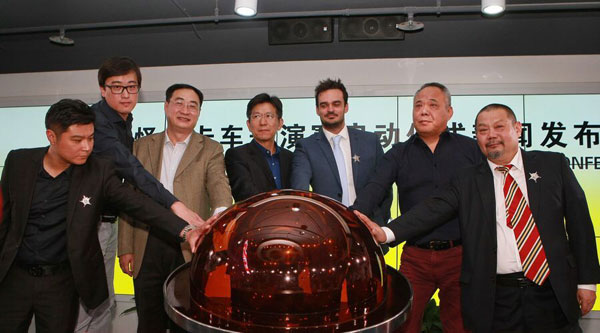 China Monster Truck Show is launched in Beijing on Oct 11, 2017. [Photo by Yu Jie/China.org.cn]
The adrenaline-charged event, known as "China Monster Truck Show," will open its 2017 season in southwest China's Chongqing and Chengdu later this year. It will be operated by a local Chinese company, Monska, in partnership with the Australia-based Monster Events, which will offer technological support.
The newly-launched China show series will feature trucks easily recognizable by fans around the world including Raptors Rampage, Freak, Mismayhem, Scooby, Extreme and Revenge, with their world-class drivers competing in monster truck racing and freestyle competitions.
The show is expected to grow into a large-scale carnival as it will incorporate more local elements and cultural celebrations to meet China's unique demand, said Lu Haibo, Monska's executive president who is responsible for the show.
There will be a total of 10 stops in the 2018 season including Changsha, Nanning, Haikou, Guangzhou, Hangzhou, Wuhan, Beijing, Chongqing, Chengdu and Liuzhou.