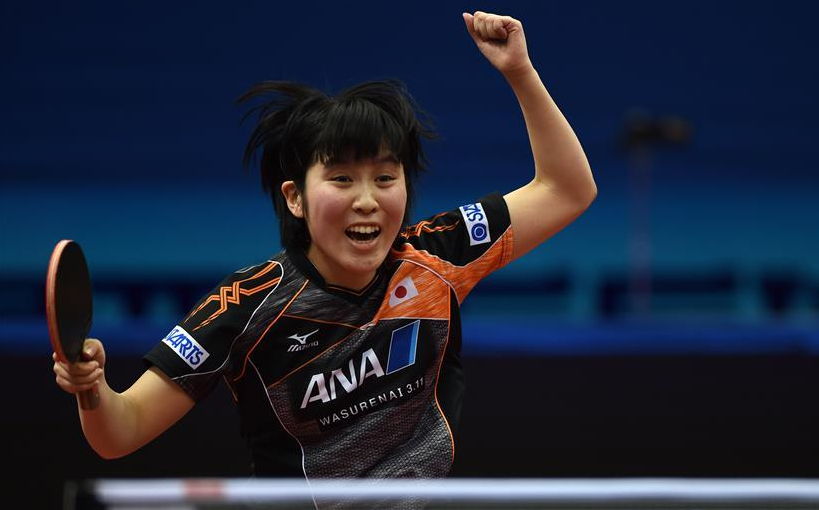 Hirano Miu of Japan celebrates after winning a quarterfinal match against Ding Ning of China at the 23rd ITTF Asian Table Tennis championships in Wuxi, east China's Jiangsu Province, April 14, 2017. Hirano Miu won 3-2. (Xinhua/Yang Lei) 
Japanese teenager Miu Hirano has at least one Chinese to thank for her Saturday's crown at the 2017 Asian Table Tennis Championships -- her Chinese-born coach Wang Rui.
The 17-year-old stole the spotlight from the hosts as she beat three leading Chinese in a row to claim the women's singles trophy, which had been lifted by China for 18 times since the tournament was first staged in 1972.
World No. 1 and the Grand Slam winner Ding Ning fell out 3-2 in Friday's quarterfinals, triggering off the exodus of the second-ranked Zhu Yuling who was stunned Saturday morning, and No. 5 Chen Meng who was nailed down in the final by Hirano, both at 3-0.
Head coach Kong Linghui of the Chinese women's team, sang high praise of the Japanese sensation, telling a post-final mixed zone that she's gone beyond the level of the current national team of China.
Chen Meng echoed: "She improved a lot in the past a few years. I can clearly see it through her game."
Until Friday, Hirano had neither beat a Chinese player on international stage, nor won one single set over Ding Ning, despite the fact that she won the women's World Cup last year in the absence of China.
Her coach Wang Rui, however, said the change has taken place far ahead of the Asian Championships.
"We coaching staff were also shocked by Hirano's rapid progress in just one year, less or more," he said. "We made plans of changing style for all players and she's the one having carried those all out."
Wang, in the same generation with China's 2008 Olympic champion Ma Lin, was a former Chinese and had played for the provincial team of Hebei before he moved to Japan 15 years ago. He continued his table tennis profession, and becomes the head coach of Japan's junior elites' school.
After having coached the top-ranked Japanese Kasumi Ishikawa for six years, Wang took over Hirano and other girl players at her age in October, 2015.
"To tell the truth, we've been learning and mocking the Chinese team, as always, since they are the leading forces and keep playing the highest level of table tennis," said Wang.
"And China has sent so many table tennis coaches and professionals to Japan, helping them develop, though it's my own choice to go work in Japan.
"I think it's fair to say that a Japanese paddler's success must have something to do with the Chinese," he added. Hirano echoed with Wang, saying that she learned a lot from the Chinese, not only from the matches she played against them but the experience playing the Chinese Super League last year.
"In my opinion, table tennis itself has gone beyond the border of countries. Players from different associations help each other to improve, while people and countries communicate through the sport," said Wang.