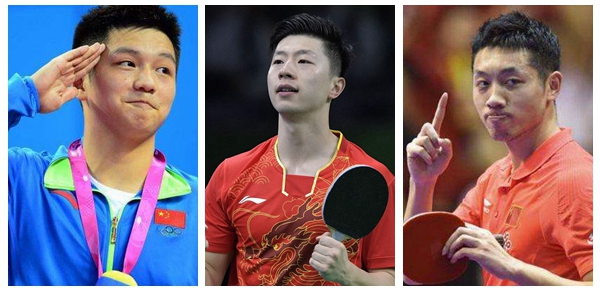 Top three table tennis players in the world: Fan Zhendong, Ma Long and Xu Xin (from L to R) [file photo]
World top three male table tennis players are welcomed back to the ITTF World Tour from 31 Oct. 2017, as they will be fined 20,000 USD each rather than any suspension for forfeiting their matches, said the International Table Tennis Federation (ITTF) in a statement on Tuesday.
During the Seamaster 2017 ITTF World Tour Platinum China Open held in Chengdu, China in June 2017, the top three table tennis players in the world: Ma Long, Fan Zhendong and Xu Xin, did not turn up for their round of 16 matches, subsequently forfeiting their matches.
The trio did not provide the ITTF or the organizing committee any immediate reason of their behaviours, which meant the ITTF needed to set up a disciplinary panel to investigate the incident and determine appropriate sanction.
The disciplinary panel reviewed all the evidence at hand, including asking for three players for an official statement which was received, as well as taking into account the public statements made by the three players, and the Chinese Table Tennis Association (CTTA) regarding the issue.
After reviewing all the evidence, the Disciplinary Panel determined that the actions of the three players breached the ITTF Rule book relating to Good Presentation.
Because the three players let down the global fans at the China Open for their actions, damaging the reputation of the ITTF, the Disciplinary Panel decided that a one-month suspension would have been justified.
However, due to the players' explanations, both their own and CTTA's assurances that there will not be such behaviours any more, the three players will be fined 20,000 USD each for breaching ITTF rules instead of a suspension.
The ITTF said the decision is effective immediately on 31 October 2017 due to no appeals of the players.
The ITTF is looking forward to welcoming Ma Long, Fan Zhendong and Xu Xin back to the ITTF World Tour and for the three icons of the sport to be role models for table tennis players across the world.