Hiking in Qingdao old urban area
Its temperate climate, winding roads, many one-way streets and few parking lots make Qingdao an ideal city for hiking.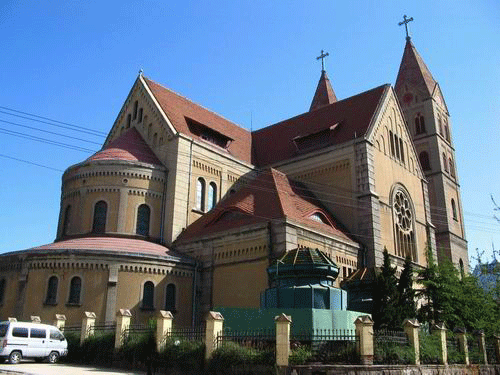 Catholic Church is the biggest church in Qingdao city. 
This route mainly covers the attractions of the old urban area in the western part of Qingdao. You can see the red walls, green trees, blue sea and azure sky that combine to make Qingdao so attractive while you are walking.
Qingdao Guest House, also the former official residence of the German governor-general lies at the southern foot of Signal Hill and faces the sea.
Start off by visiting the Catholic Church and Zhongshan Road for they are centrally located and lead to the waterfront. Then go to Zhanqiao Pier, the most frequently visited spot in Qingdao.
The former residence of Kang Youwei was originally built in 1899. 
After that, you can walk from Zhanqiao to visit the Mansion of the Governor-General, Little Qingdao Park, Tianhou Palace, Naval Museum, Marine Product Museum, Little Fish Hill, the City Square and the sculptures along the sea shore.
The former residence of Kang Youwei, a key cultural heritage site protected by the national government and well-known across China and abroad is also worth seeing. Besides, you can take a walk to Badaguan Scenic Area, which is a major tourist attraction close to the coast of Qingdao.
The No.1 Bathing Beach is located at Huiquan Bay. 
In the evening, you can take a swim at the No.1 Bathing Beach, which is known for the gentle slope, fine sand, the green water and gentle waves.
Send your stories
Get more from China.org.cn

Mobile

RSS

Newsletter