Snow-covered Finnish Lapland is bracing for a record amount of tourism this festive period, with an increased number of flights expected to arrive at the winter destination during December. A rise in visitors from Asia is fueling growth and helping the home of Santa Claus surpass pre-2008 figures.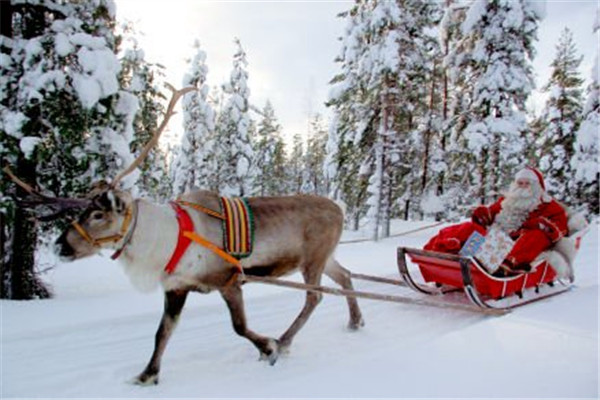 Record amount of tourism at Santa Claus' home 
Sunrise over River Kemijoki, Finland's longest river.
During the winter months temperatures can drop below minus 20 degrees Celsius.
But that hasn't prevented this destination from becoming a hot choice among tourists.
According to the city's tourist board, its roughly 62,000 inhabitants welcome almost half a million visitors every year, many of them from abroad.
And many of them come here, for the Santa Claus Village.
Over 350,000 people, from as far and wide as Australia, China, India and the UAE, visit the village every year to enjoy the snow and get in the festive spirit.
"Maybe this experience is priceless for us and maybe in Asia we cannot meet Santa Claus and see Aurora (Borealis)," said Hana Yokobatake, visitor from Japan.
According to Finavia, which operates Finland's airports, Finnish Lapland is braced for record flights this December.
This surpasses air traffic volumes not seen since 2007.
"The dramatic growth seems to come from Asian countries. China, very, very nice increase. But I must say that also there is a huge interest from European markets and of course for the Christmas season it is from the UK especially," said Sanna Karkkainen, managing director of Visit Rovaniemi.
At the adjoining SantaPark, festive visitors descend into a Christmas-themed cavern, complete with post office, ice bar and 'elf' school.
As night draws in, SantaPark visitors are treated to a 'Magic Christmas' stage show that includes these trampolining 'elves'.
"Until you actually come along and you see the snow and just the elves, and the atmosphere, and the Finnish people and things, it's just completely different. You can't put it into words what it feels like, it's magical," said Diane Grant, Santa Park visitor.
The nearby Arctic TreeHouse Hotel opened in November with 37 of these private wooden suites.
The idea is to soak in the snow-covered, arctic landscape and perhaps even catch the shimmering Northern Lights.
They're already fully-booked till mid-January and over 80 percent till March.