Sun Ping, a Peking Opera master, is worried that there are not many English translations and research materials of her art in foreign countries, which has driven her to lead a project to translate 100 opera classics.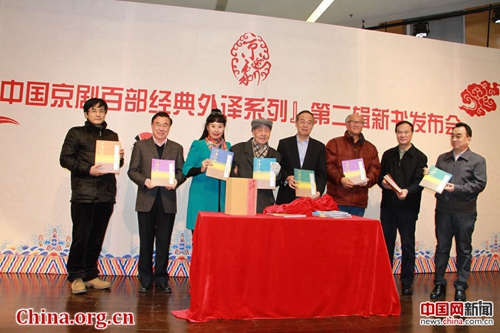 A press conference to announce the publication of the second volume of "The Translation Series of 100 Peking Opera Classics" is held in Beijing, Dec. 27, 2016. [Photo by Zhang Yanling / China.org.cn]
On Tuesday afternoon, a press conference was held in Beijing to announce the publication of 10 new books from "The Translation Series of 100 Peking Opera Classics." Famous Peking Opera actress Sun, editor-in-chief of the series, told China.org.cn that this mission is urgent and significant.
Peking Opera master Mei Lanfang (1894-1961) had several translated works when he traveled to the United States and Europe in the 1930s, which set good examples for Sun on how to promote Chinese art overseas.
"Besides synopsis translation, Mr. Mei also made Chinese flavored gifts for American audiences at that time, including handkerchiefs and folding fans. He even translated musical notation into stave," she remembered.
However, the promotion of Peking Opera ended after Mei's efforts. Decades passed, and when Sun visited Yale University in 1999, she couldn't find English-language Peking Opera scripts in the library when her American students asked for reference books.
In 2011, after returning to China, she decided to start a project to translate scripts from 100 Peking Opera classics, each with a bilingual guide, preamble, music score and photos. There will be 10 volumes as each volume covers 10 classical Peking Opera works.
"The Translation Series of 100 Peking Opera Classics" got support from Chinese leaders, including Liu Yandong, current vice premier of China, who attended the launch ceremony of the project in 2011.
Renmin University of China, the Beijing Foreign Studies University and the University of Hawaii worked together to compile the series, and Sun's 40-person team also got help from veteran experts, academic masters and heavyweight translators, including 99-year-old Guo Hangcheng, China's top opera historian from the Chinese National Academy of Arts, and Xu Yuanchong, a 95-year-old translator and professor at Peking University.
Sun told China.org.cn that with two volumes of the series already out, two other volumes will be published soon in the next year. The books will be going to China's embassies and consulates overseas as well as to Confucius Institutes worldwide, while many foreign universities as well as the presidential libraries of Richard Nixon and George H. W. Bush also inducted the books.
"The Barack Obama Presidential Library and Museum will also collect the books," Sun revealed, adding that many South Korean and Japanese publishers are knocking on her door.
"My feeling is complicated to see the books of series published one by one," she said. "I'm happy, but I feel it's a little too late. China doesn't lack culture, art and masters, but the world has not yet seen them and looked at them clearly and deeply with understanding and knowledge. We need to hurry up."