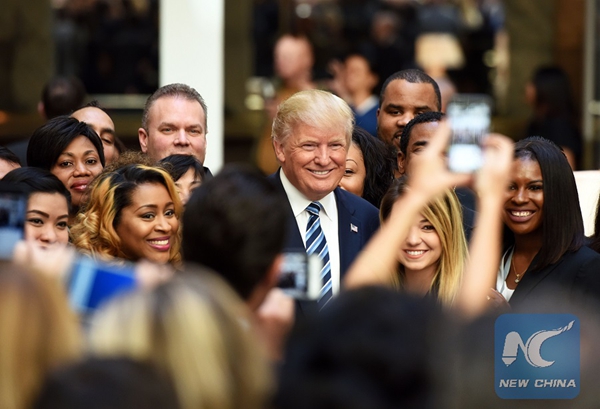 Donald Trump poses for photos during the opening and ribbon cutting ceremony of Trump International Hotel in Washington, D.C., the United States on Oct. 26, 2016. (Xinhua/Yin Bogu)
In a New Year's Day address, North Korea's leader Kim Jong-un revealed that his country's first intercontinental ballistic missile capable of reaching American soil has entered its "final testing stages," according to an article from Wei Qi with the South China Morning Post.
U.S. President-elect Donald Trump took to twitter on January 2 accusing China of being unwilling to help contain North Korea's nuclear program, writing, "China has been taking out massive amounts of money & wealth from the U.S. in totally one-sided trade, but won't help with North Korea. Nice!"
In response, China's Foreign Ministry spokesman Geng Shuang asserted, "China's stance is clear, we insist on denuclearization of the [Korean] Peninsula, peace and stability, dialogue and negotiation. China's efforts are evident."
In the time since his election, Donald Trump's foreign policy has been a topic of much debate and scrutiny, arousing concern for the immediate future of Sino-U.S. relations. On the back of his phone call with Taiwan's leader, which broke years of protocol between China and the U.S., he criticized China's trade practices and actions in the South China Sea while appointing Peter Navarro, an outspoken critic of Beijing, to head the White House National Trade Council, writes Zhang Baohui, a professor of political science and director of the Center for Asian Pacific Studies at Lingnan University in Hong Kong.
Given his unpredictable nature, lack of political experience and the growing uncertainty surrounding the two countries' relationship, it's no surprise that Trump's actions and foreign policy have become an obvious cause for concern. However, Zhang Baohui argues that an assessment of the president-elect's likely China policy in the context of his views on America's role in global affairs, there exists perhaps a brighter outlook for Sino-U.S. ties.
Taking his most recent tweet against China as an example, his comments, according to Ruan Zongze, an international relations expert at the China Institute of International Studies, were perhaps "aimed at increasing pressure on China," a direct indicator that he "wants to push more responsibility, for dealing with the DPRK situation, to China."
This claim seems close to the mark. However, it might be true, in a sense, only by default.
For Zhang, an analysis of Trump's "America First" slogan reveals the nature of his intended foreign policy as a repudiation of the traditional role of the U.S. as a leader in international affairs.
Zhang makes the argument that Trump's time in office will be defined by the "offshore balancing" strategy, which can be characterized in opposition to the huge cost of America's global primacy strategy, maintaining that the country should instead reduce its global involvements and allow the regional balance of power to maintain stability.
In giving up the global primacy strategy, Zhang writes that Trump's America could refuse the traditional "power rivalry" between nations as the fundamental driver of international relations, which could theoretically usher in more relaxed relations between China and the U.S., leading to a cautiously optimistic outlook for the two powers during his presidency.
Considering this argument in the context of Trump's most recent tweet "aimed at increasing pressure on China," and a direct indicator that he "wants to push more responsibility, for dealing with the DPRK situation, to China," his actions could instead be seen as an attempt to indirectly shift regional responsibility away from the U.S.
Despite the more optimistic nature of Zhang's argument, the unpredictable nature of Trump's character remains a constant concern, his refusal of intelligence remains dangerously ill advised and his blatant disregard for protocol and the normal channels of communication remain a potential threat to diplomacy.
With this in mind, and in the context of Zhang's argument, one of a relaxed power rivalry between China and the U.S. where Trump's tweets exist in a political vacuum without any severe impact on relations, and one where Trump sees America offloading responsibility, Chinese government officials could potentially find themselves in the driver seat of Sino-U.S. relations.
Barring a potential trade-war between the two nations, which Trump would instigate not necessarily to negatively impact China, but rather favorably impact the U.S., Beijing could potentially procure a better position of influence over the course of Sino-U.S. relations throughout his presidency.
Having previously lived in Beijing working as a journalist and editor, Kyle Calandra is currently based in America reporting on Sino-U.S. Relations as a contributor for China.org.cn.
Opinion articles reflect the views of their authors only, not necessarily those of China.org.cn.