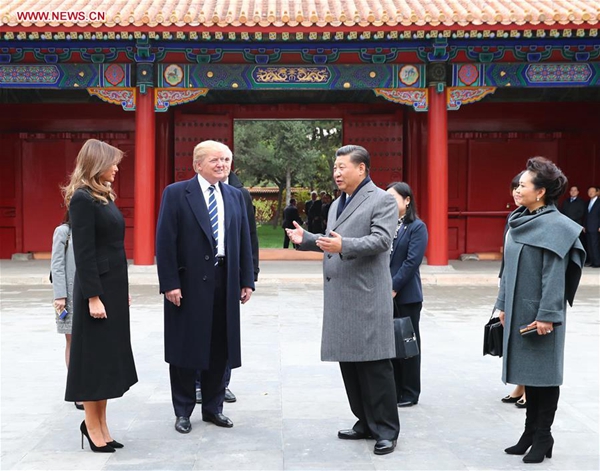 Chinese President Xi Jinping (2nd R) and his wife Peng Liyuan (1st R) welcome U.S. President Donald Trump (2nd L) and his wife Melania Trump at the Palace Museum, or the Forbidden City, in Beijing, capital of China, Nov. 8, 2017. They had an informal afternoon tea in the Baoyun Building, also known as the Hall of Embodied Treasures, in the southwestern corner of the Forbidden City. [Xinhua/Xie Huanchi]
U.S. President Donald Trump's three-day visit to Beijing starting November 8 is likely to discuss on a number of high profile policy issues with the country's newly re-elected President Xi Jinping. As part of a lengthy tour of Asia spanning five countries including Japan, South Korea, Vietnam and the Philippines, Trump's first official visit to China will be something of a nail-biter for anyone familiar with the president's diplomatic inexperience and penchant for controversy.
Given the recent rise in tensions between the United States and North Korea, the necessity of Sino-U.S. cooperation arguably has never been more vital.
The fact that both the professional and personal relationship between Xi Jinping and the wildly unpredictable and inexperienced Trump could become the linchpin of Sino-U.S. relations has more than a few people bemused about future bilateral ties. This was even more apparent in the lead-up to their initial meeting earlier this year.
During his electioneering last year, Trump touted his plan to be "tough on China." After the election, both China and the world were understandably unsure how well the new man in the White House could negotiate the immense responsibilities associated with governing? How would he react to Xi given his campaign rhetoric?
Contrary to some expectations, as things stand, the two leaders' current relationship appears to be one of mutual agreement. They saw their initial meeting as a positive step toward building good relations, with Trump going so far as to hail his new-found "friendship" with China's president.
More recently, Trump showered Xi with flattery in the aftermath of China's 19th Party Congress, congratulating him on his elevation to the same status as former leaders Mao Zedong and Deng Xiaoping.
Trump's motivations are most likely reflective of his hopes to influence a favorable negotiating environment for tough discussions focused on the large American trade deficit with China and cooperation to dampen down North Korea's determination to develop a nuclear arsenal to guarantee national independence.
Both leaders instinctively understand that Trump is in a more pressing position politically. Among his base supporters, he needs to be seen as the astute negotiator he often claims to be.
The success of their initial meeting, coupled with a close examination of the turmoil of Trump's first 10 months in office, determines at least one truth: Xi Jinping now knows his man. Moreover, his recent triumph in the Party Congress, and strong evidence of a united China, suggest Xi has never before been in a better position to entertain and "negotiate" with his American counterpart.
Alternatively, Trump is having himself a true bender of a presidency. During his short tenure so far, his administration has become synonymous with chaos and in-fighting, and the president himself has endured a flurry of constant criticisms echoed by a historically low approval rating of 38 percent. In the eyes of well over half the electorate citizens, Trump has managed to cripple an already divided America.
Despite a Republican majority in both the House and the Senate, the efforts of both the president and his party to deliver on their many campaign promises have resulted in failure and frustration.
As a result, Trump is likely looking forward to any outcome of his meeting with Xi that could be presented as even the slightest positive development. A "win" for Trump would be anything he could sell, which includes not necessarily being "tough on China," but getting Xi to see his side on some of the less controversial issues at stake.
For China, a "win" would be something as simple as keeping Trump's focus on cooperation and further encouraging his budding friendship with Xi Jinping.
A successful meeting between the two is good for both and best for Trump. Whatever the outcome of the meeting, the importance of the two countries' future negotiations and communications will remain unchanged, defining global stability in the 21st century.
Having previously lived in Beijing working as a journalist and editor, Kyle Calandra is currently based in America reporting on Sino-U.S. Relations as a contributor for China.org.cn.
Opinion articles reflect the views of their authors only, not necessarily those of China.org.cn.